Sharing the Gospel through scent
with candles inspired by saints and the faith
Create a place of peace and prayer with faith-based candles
CORDA bridges the sacred and the secular, bringing the faith to everyday moments.
We create and custom blend our signature scents in house and handcraft them into candles through 30+ steps. Complemented with a modern design and sustainable ingredients, these are saint candles like you've never seen, or smelled, before!
The fruit of love and prayer, each candle draws on the richness of our devotions, liturgy, and tradition, as well as the day to day lives and heavenly patronages of holy men and women. May the light of their lives point us to the Light of the World.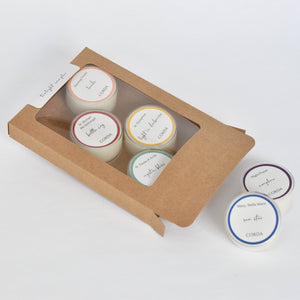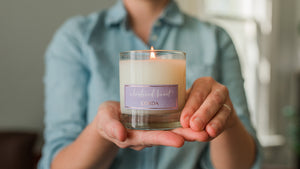 Explore by Patronages and Feasts
Commissioned by Abiding together
Cloistered Heart, inspired by St. Elizabeth of the Trinity
Proceeds from this candle help support SOLT (Society of Our Lady of the Most Holy Trinity).
Carmelite nun St. Elizabeth of the Trinity experienced much interior and physical suffering, and she is the patron saint of sick people and those who have lost a parent. Her candle has contemplative scents of cherry and violet, reminding us of her joyful spirit and mystical writings.
Explore Cloistered Heart
October Feast day
Poverello, inspired by St. Francis of Assisi
Poverello, Italian for "little poor man," is the name Francis gave himself. His candle's scents are designed to bring to mind his humility and joyful poverty.
Cypress calls to mind the area around Assisi where he roamed, begging for stones to rebuild God's church and preaching the peace of the Gospel, while earth recalls his humility and love of creation.
Explore Poverello
Perfect for fall
Memento Mori, inspired by All Souls' Day
The practice of "memento mori," or "remember you will die," is a reminder that one day this life will end and we will stand in judgment before God. Keeping death before our eyes inspires us to live well, for God and others.
This candle's somber scents of clay, stone, and stillness recall our future burial and trustful waiting for Christ's return to raise the dead to life.
Explore memento mori
About CORDA
If you love beautiful and handcrafted goods that deepen our faith, you're in the right place. A few years ago, St. Joseph got the whole thing started...
Learn more